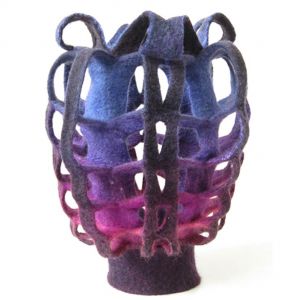 Nov 08-10, 2019 10-17h (240.- € excl. materials)
DIVERSITY – DISCOVERING NEW SPECIES IN FELT
An exiting expedition into the rich potential of creative feltmaking. Using the same set of resists again and again, but changing their positions or further treatment in the felting process, you'll discover a variety of ways to go from the same starting point and find surprising transformations and new felt species.
*** ARTENVIELFALT IN FILZ ENTDECKEN – Eine Entdeckungsreise in die schöpferischen Möglichkeiten des Filzens. Wir erkunden vielfältige Wege, die man mit nur einem Set von Schablonen gehen kann, variieren deren Anordnung und Nachbearbeitung im weiteren Filzprozess und stoßen dabei auf überraschende neue Formen.
---
Workshop fees include snacks, drinks and a vegetarian lunch.
You are free to use all felting equipment in the studio, but you may want to bring your favourite instruments, if you prefer some special ones. You can bring your own supply of wool or purchase materials on site from a wide choice of  fibers in the studio.
All workshops take place at textillabor studio, at Flutgraben e.V. , Am Flutgraben 3, 12435 Berlin
FOR ANY QUESTIONS OR BOOKING, PLEASE SEND AN E-MAIL
---
*** Die Teilnahmegebühr schließt Snacks, Getränke und ein vegetarisches Mittagessen ein.
Alle Filzutensilien und Werkzeuge im Atelier stehen zur freien Benutzung. Eigene Spezial- oder Lieblingswerkzeuge bitte mitbringen. Ihr dürft eigene Wolle benutzen oder könnt sie auch vor Ort aus einer reichen Auswahl von Fasern erwerben.
Veranstaltungsort ist meine Werkstatt im Atelierhaus Flutgraben e.V. , Am Flutgraben 3, 12435 Berlin
FÜR RÜCKFRAGEN ODER BUCHUNGEN BITTE EINE E-MAIL SENDEN