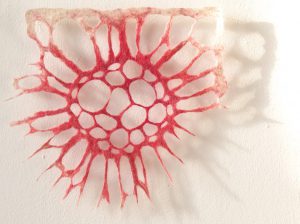 Due to current pandemic restrictions we are unfortunately unable to offer any workshops. As soon as it's possible again there will be a new workshop program.
Aufgrund aktueller Einschränkungen können leider im Moment keine Kurse angeboten werden. Sobald dies wieder möglich ist, wird es ein neues Programm geben.
---
Workshop fees include snacks, drinks and a vegetarian lunch.
You are free to use all felting equipment in the studio, but you may want to bring your favourite instruments, if you prefer some special ones. You can bring your own supply of wool or purchase materials on site from a wide choice of  fibers in the studio.
All workshops take place at textillabor studio, at Flutgraben e.V. , Am Flutgraben 3, 12435 Berlin
FOR ANY QUESTIONS OR BOOKING, PLEASE SEND AN E-MAIL
---
*** Die Teilnahmegebühr schließt Snacks, Getränke und ein vegetarisches Mittagessen ein.
Alle Filzutensilien und Werkzeuge im Atelier stehen zur freien Benutzung. Eigene Spezial- oder Lieblingswerkzeuge bitte mitbringen. Ihr dürft eigene Wolle benutzen oder könnt sie auch vor Ort aus einer reichen Auswahl von Fasern erwerben.
Veranstaltungsort ist meine Werkstatt im Atelierhaus Flutgraben e.V. , Am Flutgraben 3, 12435 Berlin
FÜR RÜCKFRAGEN ODER BUCHUNGEN BITTE EINE E-MAIL SENDEN