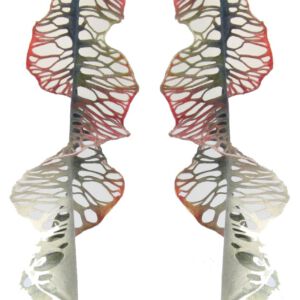 20.11. 2020 – 13.03. 2021
FilzAspekte
Filzkunst Ausstellung mit
Andrea Noeske-Porada, Andrea Uhlmann, Beatriz Schaaf-Giesser, Claudia Capiello, Dagmar Binder, Dagmar Meyer, Christine Rummel, Lyda Rump, Gabriele Wehrmayer, Renate Maile-Moskowitz, Ulrike Hartrumpf, Yvonne Zorberbier
VHS Neckarsulm, Seestr. 15   vhs-neckarsulm.de
---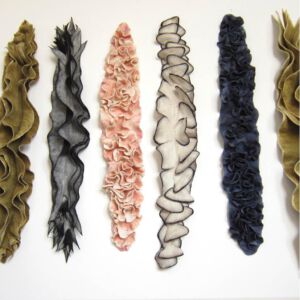 14./15.11. 2020  shop.offenbacher-sammelsurium.de

Offenbacher Sammelsurium, Stadthalle Offenbach
Leider kann das Sammelsurium in diesem Jahr nicht stattfinden, aber  alle teilnehmenden Künstler werden auf der Webseite des Marktes vertreten sein. So können Sie einfach von Zuhause aus einen virtuellen Marktbummel unternehmen und zum Einkaufen über die bereitgestellten links direkt mit den Ateliers oder Onlineshops der Kreativen in Verbindung treten.
Unfortunately, the Sammelsurium had to be cancelled this year, but all participating artists will be presented on the market's website. This way you can do a virtual stroll around all booths directly from home and if interested in any specific artwork, just use the links provided to get in touch with the artist's studios or webshops.
---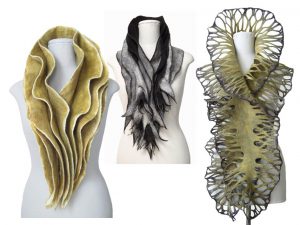 20./21.11. 2020 textilmarkt-im-tim.de
Staatliches Textil- und Industriemuseum Augsburg
Auch der Textilmarkt im TIM entfällt in diesem Jahr und Ihren Einkaufsbummel können Sie leider nur online unternehmen. Das lebendige Markterlebnis kann man virtuell natürlich nicht ersetzen, aber die Künstler werden dankbar sein, unter den aktuell schwierigen Bedingungen wenigstens online mit ihren Kunden in Verbindung bleiben oder neue Interessenten gewinnen zu können. Links zu den einzelnen Ateliers oder Webshops finden Sie in der Aussteller-Liste.

Textile and design market at TIM Augsburg as well, cannot take place this year and you can do your shopping tour only online. Of course this can't replace the lifely market atmosphere, but under the currently difficult circumstances, artists will be grateful for this possibility to stay in touch with customers or find new fans of their work. You'll find all links to the studios or webshops in the exhibitors list.