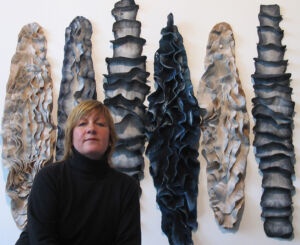 Textiles and art have been my passion since I was young.  My mother and grandmother were skillful dressmakers, as a child I was often surrounded by fascinating fabrics and materials and as soon as I was tall enough to handle a sewing machine, started first attempts to make my own dresses. I attended classes in painting and drawing and was member of a puppet theater for several years.
After graduating from school, I studied English and Spanish at Karl-Marx-University in Leipzig and obtained a diploma in linguistics and translation in 1985.
But art was going to make it's way back into my life: In the late 90ies I joined the University of Fine Arts in Berlin, aiming at a teacher career, where I happened to come across felting during a seminar of installation art. I was extremely fascinated by this versatile and expressive material and continued exploring it intensely until deciding to give up my teacher studies and to open textillabor fiber art studio at Flutgraben e.V. art house.
Since then I've been working in the field of sculptural felt: art objects, stage costumes, fashion and accessories.
Over the years, I also gained a reputation as a feltmaking tutor, teaching felting techniques at my studio, as well as textile centers and felting festivals around the world.
"Thanks" to corona (fortunately, crisis situations also bring along some positive effects!) I was forced to overcome my hesitation to teach online and started running online workshops in early 2021. Despite initial doubts, I'm very happy now about being able to meet my students in the virtual world and stay connected even though we are in different parts of the world. Of course, I'm looking forward very much to more creative gatherings in reality, but online classes will sure continue to be a useful complement to face2face classes.
My works have been represented in numerous fiber art exhibitions and at textile design fairs.
---
Selection of recent exhibitions and design fairs:
2020 FilzAspekte, VHS Neckarsulm/D
Kaleidoscope, online exhibition of the International Feltmakers' Association IFA
2019 Felt – Contemporary Expressions, Lainamac, Felletin/FR
2018 Visionary Textiles – Looking Inward, Santa Fe Waeving Gallery, Santa Fe/USA
2017 Filzkunst, Fraunhofer Institut, Karlsruhe/D
Art Felt, Lainamac, Felletin/FR
VII International Bienniale of Contemporary Textile Art, Montevideo/URY
2015 Passion Felt, Junges Forum Kunst, Siegburg/D, Haarlem/NL and DHG Gallery Prato/IT
Wall Art and Decorative Insulation, Lainamac, Felletin/FR
2014 Cantos de Hombres y Pájaros, La Troje, Cochabamba/BO (s)
2013 Sen~ales Amazónicas, Tarapoto/PE
2012 Faszination Filz, eigenSinn, Jena/D (s)
Spring Skeins, Big Cat Textiles, Newburgh/GB
Northern Lights, Red Warehouse, Hobro/DK
Familiar Strangers, Shirdak, Amsterdam/NL (s)
2011 Felt Amazing, Urbanity, Vancouver/CA
Regular participation at craft and design fairs, f.ex.
Grassimesse at Museum of Applied Arts, Leipzig
Zeughausmesse Modern Craft, Berlin
Textilmarkt at TIM, Textile and Industry Museum, Augsburg
Works in collections and museums
Grassi Museum for Applied Arts, Leipzig/D
Museu do Traje e do Textil, Salvador de Bahia/BR
Sacatar Foundation, Pasadena/USA
Artist in Residence
2009 Instituto Sacatar, Salvador de Bahia/BR
2013 Sachaqa Centro de Arte, San Roque de Cumbaza/PE
2014 Sustainable Bolivia, Cochabamba/BO