26.09.2020 11-17h
in der Jugendkunstschule JUKS Lichtenberg
FARBENFROHE SCHMUCKSTÜCKE IN SCHOLLENTECHNIK
Am Beispiel von kleinen Objekten könnt Ihr wertvolle Feinheiten und Tricks des vielseitigen Filzhandwerks erlernen: feines Auslegen von Fasern, das Spiel mit verschiedenen Farbschichten, den Umgang mit Schablonen und natürlich, wie ein Filz von guter, fester Qualität gemacht wird.
Aus feiner Merinowolle und Seidenfasern entstehen Broschen, Haarspangen, Armreifen oder auch ein unverwechsellbares Etui für's Smartphone.
Diese Arbeit erfordert nicht so viel Kraft wie das Walken eines großen Filzes, hier sind vor allem Phantasie und Fingerfertigkeit gefragt.
Vorkenntnisse im Filzen sind von Vorteil, aber auch Anfänger sind willkommen!
Hier geht's zur Anmeldung in der JUKS
---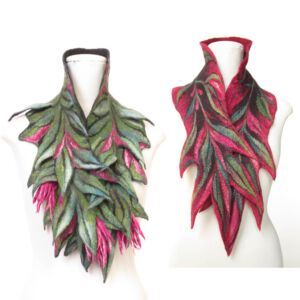 28./29.11.2020 je 10-16h
in der Jugendkunstschule JUKS Lichtenberg
SCHMUCKE BLÜTENKRAGEN
Diese Blütenkragen sind Schal und Schmuckstück in einem und bringen tolle Farbtupfer in die Wintergarderobe.
Damit sie sich gut an Hals und Schultern anschmiegen, achten wir hier besonders auf gezieltes Auslegen der Fasern, um die gewünschte Form zu erzielen. Ihr erlernt feines Auslegen der Wolle, das Spiel mit verschiedenen Farbschichten und wie man ein dekoratives Ornament mit Fasern auf der Oberfläche zeichnen kann. Etwas Seide verleiht dem Kragen Glanz und Leuchtkraft.
Wer schon etwas mehr Erfahrung hat, kann vielleicht auch einige Blätter und Blüten in 3d anfügen.
Vorkenntnisse im Filzen sind von Vorteil, aber auch Anfänger dürfen sich trauen.
Hier geht's zur Anmeldung in der JUKS
---
ATELIERKURSE 2021 – STUDIO WORKSHOPS 2021
*** Atelierkurse finden derzeit nur in Kleingruppen von 3 TeilnehmerInnen statt und bieten Euch eine besonders persönliche Atmosphäre, natürlich unter Einhaltung aller notwendigen Vorsichtsmaßnahmen. Ich nehme gern Reservierungen entgegen und bestätige die Kurse erst, wenn wir wissen, ob sie tatsächlich stattfinden können. Vor der Bestätigung fallen für Euch keine Kosten an.
Studio workshops are now taking place with only 3 participants and offer you a very personal felting experience. Of course we will take all necessary precautions for our safety. I will be pleased to receive your reservations and will confirm only when we know the situation will allow us to meet. There will be no costs for you before confirmation of the course. 
---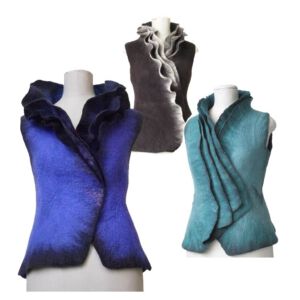 15.-17.01.2021   10-17h   240.- €          ⇒ Reservieren: textillabor
*** NAHTLOSE WESTEN MIT MEHRFACHEN KRAGEN
In diesem Kurs filzen wir eine schicke, figurbetonte Weste mit mehrschichtigen Kragen oder anderen 3d Strukturen.
An einer Probe ermitteln wir den Schrumpffaktor und lernen, wie man mit gezieltem Auslegen der Fasern eine gute Passform und Qualität eines Kleidungsstücks erreichen kann, eine wichtige Voraussetzung, um Euer Design zu planen. Anschließend werden wir Schablonen für Eure individuelle Größe erstellen. Mit deren Hilfe kann jede Weste nahtlos ausgelegt und verarbeitet werden.
Sie wird in Rolltechnik gut angefilzt, Details von Hand modelliert und zuletzt nochmals alles gut auf passende Größe und stabile Konsistenz verdichtet.
SEAMLESS WAISTCOATS WITH MULTIPLE COLLARS
In this class we will make a fashionable, seamless waistcoat with multiple collars or other 3d surface elements.
Starting with a sample we'll find out the shrinkage factor and have a look at how the layout direction of your fibres can influence shape and quality of a garment. This knowledge will help you to plan your vest design. You will calculate and make a resist for your personal size, which will allow you to layout and process your waistcoat in a seamless way.
After rolling the felt piece, details will be shaped by hand and the vest finally compacted to a perfect size and firmness.
---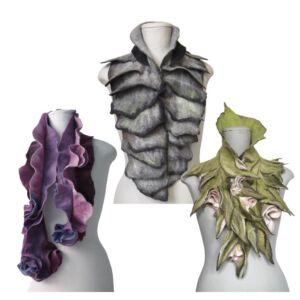 05.-07.02.1.2021   10-17h   240.- €          ⇒Reservieren:  textillabor
*** 3D BOAS UND KRAGEN
In diesem Kurs erkunden wir die wunderbare Vielfalt an Gestaltungsmöglichkeiten in Filz und probieren unterschiedliche Formen für Schals, Boas oder Kragen aus.
Die Kombination von verwendeten Materialien und die Ausrichtung der Fasern beim Auslegen haben entscheidenden Einfluß auf Form, Festigkeit oder Flexibilität des fertigen Filzstücks. Wir werden uns die Eigenschaften der Fasern genauer anschauen und zunutze machen, um dehnbare oder klar definierte Formen in Filz zu modellieren.
3D FELTED BOAS AND COLLARS
In this workshop we will experiment with different forms for scarves, boas or 3d felt collars and explore the wonderful variety of possible designs.
The combination of materials and fibre direction in your layout will influence shape, firmness and flexibility of your felt considerably. We will have a close look at the properties and potential of our wool and learn how we can achieve stretchable or clearly defined shapes in felt.
---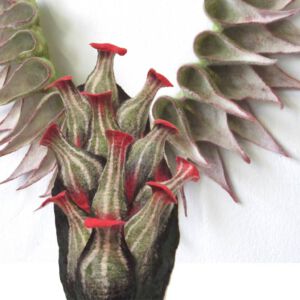 12.-14.03.2021   10-17h   240.- €          ⇒Reservieren: textillabor
*** EXOTISCHE WELT DER PFLANZEN  – 3D FILZOBJEKTE
Wir lassen uns von exotischen Formen und Farben aus der Pflanzenwelt inspirieren und gestalten Wandobjekte, Skulpturen oder auch tragbare gefilzte Schmuckstücke.
Macht Fotos bei einem Besuch im botanischen Garten oder sucht Euch Anregungen in Büchern oder im Internet. Ausgehend von Euren Vorlagen werden wir herausfinden, welche Materialien und Art von Schablonen nötig sind, um Euer Filzobjekt umzusetzen und in die richtige Form zu bringen.
EXOTIC BOTANICAL WORLD – 3D FELTED OBJECTS
We will look for inspiration in the wonderful world of exotic plants and create 3d wall hangings, sculptures or a decorative piece of wearable art.
You may take photos while visiting botanical gardens, look for pictures in books or online. Together we will find out, which materials and what kind of resists you will need to create a felt piece reflecting your inspirational object and how to achieve the desired form.
---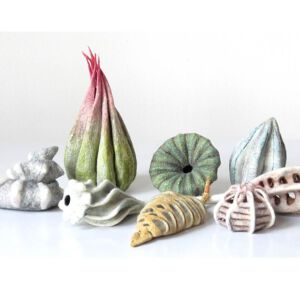 09.-11.04.2021   10-17h   240.- €          ⇒Reservieren: textillabor
*** FASZINIERENDE HOHLFORMEN IN MINIATUR
In der Natur finden wir eine Fülle von interessanten Schalen, Gehäusen und Kapseln, die ein spannendes Studienobjekt und Anregung für Filzarbeiten sein können. An ihnen läßt sich Vieles in Sachen Architektur und Stabilität beobachten, was uns auch beim Filzen sehr nützlich ist. In einer Reihe von kleinen Objekten üben wir vor allem sehr feines und gezieltes Auslegen der Wolle und wagen uns schrittweise von einfachen zu komplizierteren Formen vor. Mit verschiedenen Arten von Schablonen gelangen wir zu immer neuen, überraschenden Formen!
FASCINATING HOLLOW FORMS EN MINIATURE
In nature we can find a variety of interesting shells, pods and capsules, a rich source of inspiration for hollow felted forms. On top, we can learn a lot from them in terms of architecture and stability, important features in feltmaking, too. In a series of small scale objects we will practise especially a very fine and precise layout of fibres and step from easier on to rather complex versions. Exploring different types of resists we will achieve many new and surprising felted shapes.
---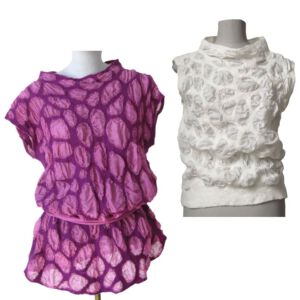 28.-30.05.2021   10-17h   240.- €          ⇒Reservieren: textillabor
*** SEIDENTOPS IN BLASENOPTIK
Zum Start in die warme Jahreszeit filzen wir luftige, sommerliche Oberteile.
Auf leichte Pongéseide tragen wir eine hauchfeine Wollstruktur auf, die den Stoff später effektvoll raffen und kräuseln wird. Mit Hilfe einer Schablone, für Eure persönliche Größe erstellt, können die Tops nahtlos gearbeitet und sogar beidseitig getragen werden. Die Größe sollte eher großzügig berechnet werden, so daß das Oberteil locker fällt, offen oder mit Gürtel getragen.
Als etwas einfachere Variante könnt Ihr auch eine Stola in gleicher Technik wählen.
SILKTOPS WITH BUBBLE SURFACE
Starting off into the warm season we will create light, summerly silk tops.
On a base of thin silk pongé fabric we will lay out a delicate structure of fine wool which will catch and ruffle the fabric in a beautiful way. Using a resist made for your personal size, you can make a seamless, even reversible blouse. The size should be calculated rather generous for a loose, comfortable fit, f.ex. wearable with a belt. For an easier version you may also choose making a scarf or wrap in the same technique.
---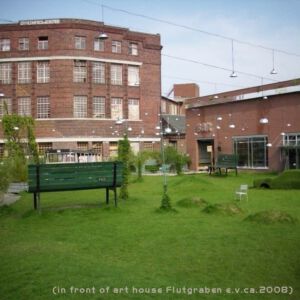 *** Die Teilnahmegebühr für Atelierkurse beträgt 80 € pro Person / Tag und schließt Getränke und ein vegetarisches Mittagessen ein. Kurse finden ab min. 3 TeilnehmerInnen statt.

Alle Filzutensilien und Werkzeuge im Atelier stehen zur freien Benutzung. Eigene Spezial- oder Lieblingswerkzeuge bitte mitbringen. Ihr dürft eigene Wolle benutzen oder könnt sie auch vor Ort aus einer reichen Auswahl von Fasern erwerben.
Wenn Sie an einem speziellen Thema Interesse haben, Unterstützung bei einem eigenen Filzprojekt suchen oder mit FreundInnen einen kreativen Tag geniessen möchten, können wir auch gern einen privaten Termin für Sie arrangieren.

Veranstaltungsort ist meine Werkstatt im Atelierhaus Flutgraben e.V. , Am Flutgraben 3, 12435 Berlin
FÜR RÜCKFRAGEN ODER BUCHUNGEN BITTE EINE e-mail SENDEN
---
Workshop fees (in my studio) are 80 € p.p./day and include beverages and a vegetarian lunch. Courses will take place with min. 3 participants.
You are free to use all felting equipment in the studio, but you may want to bring your favourite instruments, if you prefer some special ones. You can bring your own supply of wool or purchase materials on site from a wide choice of  fibers in the studio.
If you are interested in a special theme, need support with an individual felting project or want to enjoy a creative day with friends, I will be pleased to arrange a private course for you.
Venue: textillabor studio, at art house Flutgraben e.V. , Am Flutgraben 3, 12435 Berlin
FOR ANY QUESTIONS OR BOOKING, PLEASE SEND AN e-mail