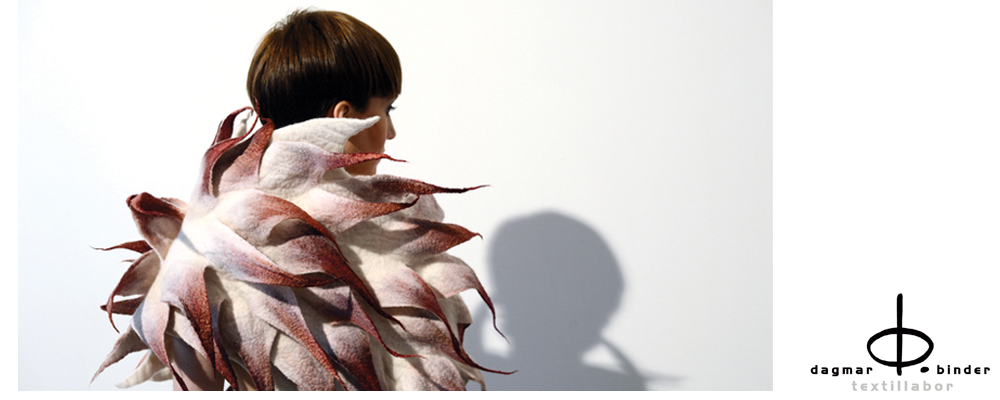 WELCOME TO TEXTILLABOR STUDIO FOR HANDMADE SCULPTURAL FELT
ART – INTERIOR DESIGN – STAGE COSTUMES – FASHION – ACCESSORIES – WORKSHOPS
Find an extraordinary piece of decorative or wearable felt art or contact me for individual commissions.
You may choose from currently available works or visit one of the stores that present textillabor felted creations.
For individual projects you are welcome to send an inquiry and I'll be happy to get in touch with you for further details.
After meanwhile more than 20 years of feltmaking experience, I am still fascinated by the versatility and sculptural potential of wool and how coloured fibers can be blended in a painterly way. Most of my creations are shaped by hand in a seamless 3-dimensional and practically waist-free process. Art objects may include all kind of textile or similar fibres, while garments come only with high quality natural materials, such as fine merino wool and silk. I purchase my wool from certified suppliers who guarantee mulesing-free production and careful dying methods, according to GOTS and Ecotex 100 standards.
To learn more about feltmaking, improve your skills or get inspired with new techniques, join us for a workshop.
You will find the current schedule of (inter)national classes in the workshops section.
SINCE 2021 SOME WORKSHOPS ARE NOW AVAILABLE AS ZOOM ONLINE SESSIONS, supported by video and PDF materials!
---
*** WILLKOMMEN IM TEXTILLABOR – ATELIER FÜR HANDGEFERTIGTE UNIKATE AUS FILZ
KUNST – DEKORATIVE WANDGESTALTUNGEN – KOSTÜME – MODE – ACCESSOIRES – KURSE
Im textillabor entstehen Textilobjekte, Bühnenkostüme und einzigartige Filz-Designs für Modebegeisterte.
Wählen Sie aus der aktuellen Palette verfügbarer Arbeiten oder besuchen Sie eines der Geschäfte, die meine Kreationen im Sortiment führen.
Möchten Sie individuelle Vorstellungen umsetzen, können Sie auch eine Anfertigung in Auftrag geben. Anfragen nehme ich unverbindlich entgegen und werde gern mit Ihnen Details besprechen.
In versierter Handarbeit fertige ich seit rund 20 Jahren vor allem nahtlose, organisch anmutende Filzobjekte, textile Skulpturen wie aus einem Guss. Wolle läßt sich – wie kein anderes textiles Medium – dreidimensional modellieren, farbige Fasern können beinahe wie Pinselstriche gesetzt werden und verschmelzen auf malerische Weise. Jedes Objekt wird direkt in der gewünschten Form ausgelegt und kann so praktisch ohne Verschnitt hergestellt werden.
Für Kunstwerke kommen verschiedenste textile und verwandte Fasern zum Einsatz,  für Bekleidung und Accessoires jedoch nur ausgesuchte,  tragefreundliche Materialien wie extrafeine Merinowolle und Seide. Meine Wolle beziehe ich von zertifizierten Herstellern, die auf mulesing-freie Produktion und schonenende Färbetechniken gemäß GOTS und Ökotex Standard 100 achten.
Wenn Sie selbst ein besonderes Stück filzen, Ihre Kenntnisse erweitern oder sich von neuen Techniken inspirieren lassen möchten, besuchen Sie einen meiner Workshops.
Den aktuellen Kurs-Kalender finden Sie unter workshops
SEIT 2021 SIND EINIGE KURSE ALS ONLINE VARIANTE AUF ZOOM VERFÜGBAR, ergänzt durch Video und PDF Anleitungen !