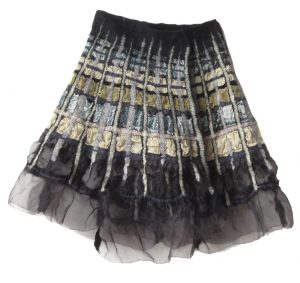 Feb 14-16, 2020   at Hohebuch/D   http://hohebuch.de
LIGHT WRAP SKIRTS
Combining fine merinos with silk fabric and ribbons we'll create light and delicate summer skirts. Materials can be twisted and entwined or composed in colourful mosaics framed by woolen lines.
*** LUFTIGE WICKELRÖCKE – Nahtlose Röcke aus Chiffon oder Pongéseide in Kombination mit feinster Merino. Wolle und Seidenbänder können verflochten oder diverse Reststücke von Seidenstoffen recycled und zu farbenfrohen Mosaiken zusammengesetzt werden. Auch Varianten für die kältere Jahreszeit sind natürlich möglich.
---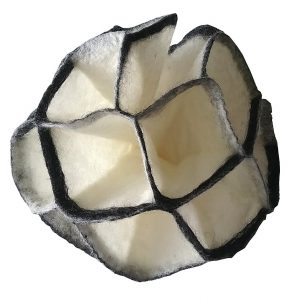 Feb 17, 2020   at Hohebuch/D   http://hohebuch.de
HONEYCOMB STRUCTURES
A short insight into the construction of  foldable 3d felt. Trough skillful combination of basic resists we can create beautiful 3d forms, a floral pin, a foldable sphere, jewelry or decorative objects.
*** WABENSTRUKTUREN – Eine kurze Einführung in die Konstruktion von faltbaren Wabenmustern. Mit geschickter Platzierung von Schablonen lassen sich tolle 3d Effekte erzielen. Wir probieren eine Blütenrosette, eine kleine Wabenkugel oder ein Schmuckobjekt.
---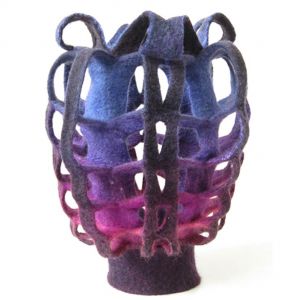 Aug 31 – Sep 04, 2020  at Wollknoll, Oberrot/D    http://wollknoll.eu
DIVERSITY – DISCOVERING NEW SPECIES IN FELT
An exiting expedition into the rich potential of creative feltmaking. Using the same set of resists again and again, but changing their positions or further treatment in the felting process, you'll discover a variety of ways to go from the same starting point and find surprising transformations and new felt species.
*** ARTENVIELFALT IN FILZ ENTDECKEN – Eine Entdeckungsreise in die schöpferischen Möglichkeiten des Filzens. Wir erkunden vielfältige Wege, die man mit nur einem Set von Schablonen gehen kann, variieren deren Anordnung und Nachbearbeitung im weiteren Filzprozess und stoßen dabei auf überraschende neue Formen.
---
FOR BOOKING, PLEASE GET IN TOUCH WITH THE ORGANIZERS.
*** BUCHUNGEN BITTE DIREKT BEIM VERANSTALTER VORNEHMEN.