*** Die für den Mai geplanten Kurse in Hohebuch haben wir auf die Sommerferien verlegt und hoffen, daß wir Euch dann endlich wieder im wahren Leben zum Filzen begrüßen können! Für alle, die nicht reisen können oder wollen, gibt es auch weiterhin Online Filzkurse
*** The May workshops planned at Hohebuch will be postponed and take place in August 2021, hopefully the perfect time of the year to welcome you again for some "real life felting"! For those who can't or don't want to travel far, I will continue with online workshops
---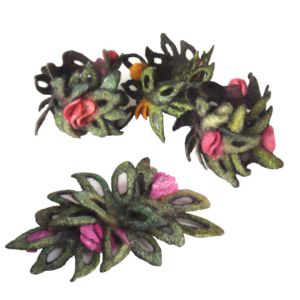 August 05, 2021  Hohebuch/D      Hohebuch/Bildungsangebote
*** 3D FILZ IN MINIATUR – BLÜTENARMBÄNDER
In diesem Tageskurs versuchen wir uns an einer zierlichen Variante der 3d Technik und filzen Armbänder, Broschen oder Haarspangen aus feiner Merinowolle und Seide. Im kleinen Format üben wir besonders das feine und präzise Auslegen der Fasern und den geschickten Einsatz von Farbtönen, um Licht- und Schatteneffekte zu erzielen.
3D FELT EN MINIATURE – FLORAL WRISTLET OR BROOCH
In this one day class you can learn about 3d felting in a small scale version, making lovely floral wristlets, brooches or hair pins. Working in small dimensions, we will focus on fine and precise layout of fibres and practise blending of colors to achieve light-and-shadow effects.
---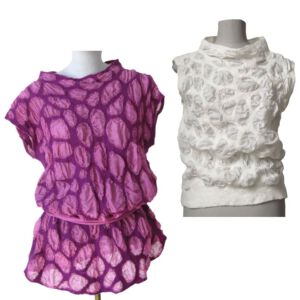 August 06-08, 2021   Hohebuch/D      Hohebuch/Bildungsangebote
*** SEIDENTOPS IN BLASENOPTIK – Passend für die warme Jahreszeit filzen wir luftige, sommerliche Oberteile. Auf leichte Pongéseide tragen wir eine hauchfeine Wollstruktur auf, die den Stoff später effektvoll raffen und kräuseln wird. Mit Hilfe einer Schablone können die Tops nahtlos gearbeitet und sogar beidseitig getragen werden. Die Größe sollte eher großzügig berechnet werden, so daß das Oberteil locker fällt, offen oder mit Gürtel getragen.
Als etwas einfachere Variante könnt Ihr auch eine Stola in gleicher Technik wählen.
SILKTOPS WITH BUBBLE SURFACE
Perfect for the warm season we will create light, summerly silk tops. On a base of thin silk pongé fabric we will lay out a delicate structure of fine wool which will catch and ruffle the fabric in a beautiful way. Using a resist we can make a seamless, even reversible blouse. The size should be calculated rather generous for a loose, comfortable fit, f.ex. wearable with a belt.
For an easier version you may also choose making a scarf or wrap in the same technique.
---
FOR BOOKING, PLEASE GET IN TOUCH WITH THE ORGANIZERS.
*** BUCHUNGEN BITTE DIREKT BEIM VERANSTALTER VORNEHMEN.