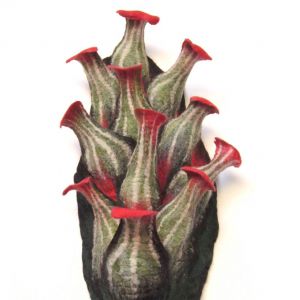 April 14-16, 2023   Hohebuch/D, hohebuch.de
BOTANISCHE WANDOBJEKTE IN FILZ
In der Heimvolkshochschule Hohebuch tauchen wir im nächsten Jahr ins Reich der Pflanzen und lassen uns von ihren bezaubernden Formen und Farben inspirieren. (Freitag – Sonntag Nachmittag).
April 17, 2023
Am Montag gibt es einen kurzen, 1-tägigen Einblick in's Shibori Filzen anhand von kleinen Schmuckstücken.
Nähere Details findet Ihr im Programm Hohebuch Bildungsangebote/Filzen.
---
FOR BOOKING, PLEASE GET IN TOUCH WITH THE ORGANIZERS.
*** BUCHUNGEN BITTE DIREKT BEIM VERANSTALTER VORNEHMEN.