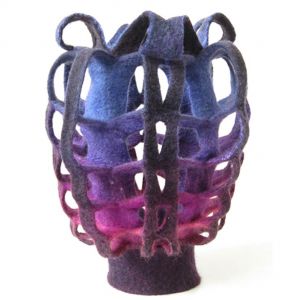 This workshop is not cancelled yet, but we have to wait and see how the situation would develop until August.

Dieser Kurs ist noch nicht abgesagt, aber wir müssen zunächst die weitere Entwicklung bis August abwarten.
Aug 31 – Sep 04, 2020  at Wollknoll, Oberrot/D    http://wollknoll.eu
DIVERSITY – DISCOVERING NEW SPECIES IN FELT
An exiting expedition into the rich potential of creative feltmaking. Using the same set of resists again and again, but changing their positions or further treatment in the felting process, you'll discover a variety of ways to go from the same starting point and find surprising transformations and new felt species.
*** ARTENVIELFALT IN FILZ ENTDECKEN – Eine Entdeckungsreise in die schöpferischen Möglichkeiten des Filzens. Wir erkunden vielfältige Wege, die man mit nur einem Set von Schablonen gehen kann, variieren deren Anordnung und Nachbearbeitung im weiteren Filzprozess und stoßen dabei auf überraschende neue Formen.
---
FOR BOOKING, PLEASE GET IN TOUCH WITH THE ORGANIZERS.
*** BUCHUNGEN BITTE DIREKT BEIM VERANSTALTER VORNEHMEN.