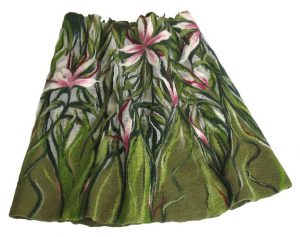 April 21 – 23, 2023   Frühlingsworkshops der Filzszene in Waltensburg/Vuorz/CH
LUFTIGE SOMMER-RÖCKE
In diesem Kurs filzen wir einen luftigen, sommerlichen Wickelrock aus Chiffonseide und feiner Merinowolle.
Wir werden einzelne, nach unten ausgestellte Bahnen anfertigen, die Euch die Möglichkeit geben, auch unterschiedliche Muster auszuprobieren und dann originell zu kombinieren. Hier lässt sich z.B. mit dem Kontrast von organischen und streng geometrischen Formen, Dichte und Transparenz spielen. Die Bahnen werden vorgefilzt, getrocknet und können dann mit versteckten (oder auch sichtbaren Zier-) Stichen geheftet werden. Den Bund legen wir zuletzt mit Wollfasern direkt an die obere Kante an und verbinden alles zu einem nahtlosen Rock.
Bitte wendet Euch bei Interesse direkt an: Esther Grischott, workshop@filzszene.ch
---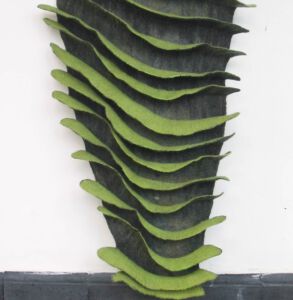 June 8-11, 2023   at Atelier Fiberfusing, Amstelveen/NL
3D STRUCTURAL WALL HANGINGS – Multi-layer techniques for seamless felt art
In this class we want to explore a variety of techniques for multi-layer surfaces in feltmaking
which can be applied to wearables as well as fine art objects.
We'll have a look at the characteristics of the different types of wool and see how we can use/combine them to achieve a good quality and density of felt and create specific forms.
Paying attention to fibre directions during layout will help to plan your projects better and influence consistency and final shape of your feltworks from the very beginning.
For 3d structures we will also need to consider ways of connecting 3d elements and plan/arrange resists in order to allow prefelting and fulling in a flat position before unfolding the object.
Please bring your individual inspirations, sketches, photos or natural artefacts, something you may want to use as a starting point for a felted wall hanging. With the background of many years of experience in sculptural felting and teaching, I will support and guide you in creating your very personal piece(s) of felt art.
From time to time we will have a look at the different projects, discuss important technical details, options and/or difficulties and try to find solutions for tricky situations. This way, all participants can learn from each other, understand parallels and differences of several ways of handling the material and find more confidence in their personal "dialogue between the felt and the maker".
---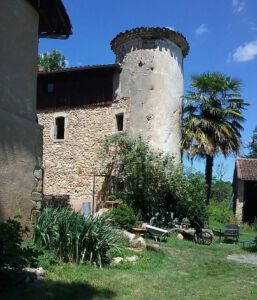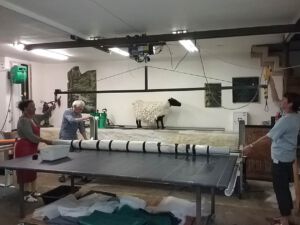 Oct 26 – Nov 01, 2023   at La Couech, Montbrun-Bocage/FR, feutreformationfrance.com
… still planning…
---
FOR MORE DETAILS AND BOOKING, PLEASE GET IN TOUCH WITH THE LOCAL ORGANIZERS.