---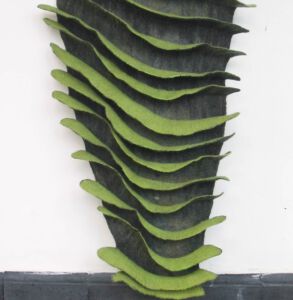 October 5-8, 2023   at Atelier Fiberfusing, Amstelveen/NL
3D STRUCTURAL WALL HANGINGS – Multi-layer techniques for seamless felt art
In this class we want to explore a variety of techniques for multi-layer surfaces in feltmaking which can be applied to wearables as well as fine art objects.
We'll have a look at the characteristics of the different types of wool and see how we can use/combine them to achieve a good quality and density of felt and create specific forms. Paying attention to fibre directions during layout will help to plan your projects better and influence consistency and final shape of your feltworks from the very beginning.
For 3d structures we will also need to consider ways of connecting 3d elements and plan/arrange resists in order to allow prefelting and fulling in a flat position before unfolding the object.
Please bring your individual inspirations, sketches, photos or natural artefacts, something you may want to use as a starting point for a felted wall hanging. With the background of many years of experience in sculptural felting and teaching, I will support and guide you in creating your very personal piece(s) of felt art.
From time to time we will have a look at the different projects, discuss important technical details, options and/or difficulties and try to find solutions for tricky situations. This way, all participants can learn from each other, understand parallels and differences of several ways of handling the material and find more confidence in their personal "dialogue between the felt and the maker".
---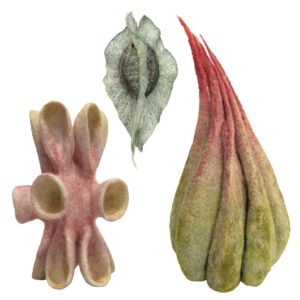 Oct 26 – Nov 01, 2023   at La Couech, Montbrun-Bocage/FR, feutreformationfrance.com
PAGE BY PAGE – Exploring the potential of book resists (Oct 26 – 28)

In this workshop we'd like to have a closer look at the variety of applications of so-called book resists. With several pages they provide enormous possibilities of creating more complex 3d shapes and expand a felt object in practically any direction in space.
A classic example are symmetrical bodies with multiple segments, like seedpods or other natural forms. But not necessarily we have to stick to symmetry and can use a pattern with irregular pages to create voluminous hollow forms that can be pleated, turned inside out and transformed into unexspected shapes. These can be practical, useful items like hats, bags, vessels or completely abstract sculptures.
It's worth exploring this concept somewhat deeper to discover in how many different situations in can be applied in your felting practise.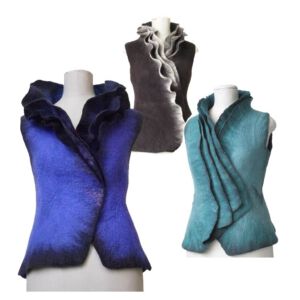 SCULPTURAL WAISTCOATS (Oct 30 – Nov 01)
In this workshop you will make a fashionable, one-of-a-kind waistcoat with 3d surface elements or multiple collars as a decorative highlight.
You will learn how to develop a pattern for your individual size, calculate shrinkage and have a close look at how composition and direction of fibres would influence the final consistency, shape and flexibility of a piece of felt. This way you can already plan how to place fibres during the layout phase and define shrinking certain sections in order to achieve a good shape of your garment.
With the help of extra resists 3d elements can be added to the basic body in a seamless way. After prefelting, these structures can be unfolded and will give each vest a unique touch.
---
FOR MORE DETAILS AND BOOKING, PLEASE GET IN TOUCH WITH THE LOCAL ORGANIZERS.