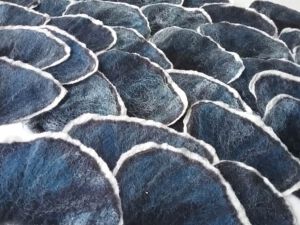 I'm pleased to be part of  a Discover article on TextileArtist.org
Six contemporary felt artists
Have a look and enjoy much more than felting news, but loads of exciting explorations into the world of fibre art, inspirational artist portraits, workshops, stitching challenge etc.
Maybe you find a new technique to even combine with felting?!
Ich freue mich, daß ich einen Teil zum Discover Artikel des online Textilkunst Netzwerks TextileArtist beitragen durfte.
Six contemporary felt artists stellt Euch Filzkünstlerinnen vor, die auf ganz unterschiedliche Weise mit dem Medium arbeiten. Darüber hinaus begeistert TextileArtist mit einer Fülle von interessanten Artikeln zu Textilkunst im weitesten Sinne, inspirierenden Künstler*innenportraits, Kursen, Wettbewerben usw.
Vielleicht entdeckt Ihr ja neue Techniken, die Ihr mit dem Filzen verbinden könnt?